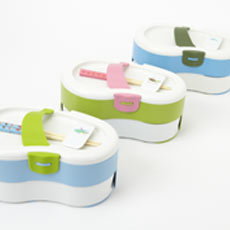 WHAT IS QUODPOD™?
Fed up with layers of throwaway packaging and boring meal choices when you travel? Wish your packed lunch could offer more than a soggy sandwich? Wonder why airline meals have not changed since you were a child? Looking for a premium picnic offering for your corporate customers?

These are just some of the reasons for designing the Quodpod™

Quodpod™ is a new meal packaging concept designed to dramatically improve the quality and sustainability of large-scale catering. Conceived primarily for the long haul airline sector, Quodpod™ can be used in a wide range of catering applications, including rail, schools, packed lunches and event catering.

Click here to download the Quodpod™ product information sheet.

Inspired by the aesthetics of the bentobox and the functionality of the tiffin tin, the pods incorporate a raft of innovative features which combine to present a win-win meal solution for caterers, customers and travel operators alike, including:

Sustainability

The pods are designed to dismantle easily for cleaning in the dishwasher, eliminating layers of throwaway wrapping. In three clicks the pod is assembled and ready to use. Food tray inserts can be reusable or disposable, depending on caterer logistics, but even with disposable inserts the pods produce less waste than the average airline meal.

Food presentation

With four distinct food compartments, flavours and textures can be kept separate for a more appetising meal presentation. The dual layer approach is also perfect for separating hot and cold dishes, allowing menu flexibility and providing an easy way to transport a full three course meal in one compact container.

Branding

The pods are an excellent brand vehicle, showing off your logo and corporate colours without creating more throw-away layers around the food. By customising the colours and adding your logo, the meal will attain at-a-glance brand recognition.