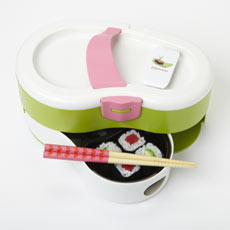 ABOUT US
Quodpod Ltd. was founded in November 2006 to design, market and produce a range of innovative catering solutions, starting with the Quodpod™ meal service.

The original concept was developed by industrial designer and company founder Katie Davidson, who is an avid traveller and self-confessed foodie. She is now working full-time as Managing Director for Quodpod Ltd to bring the product to market.

Katie explains: "I have an engineering and design background but was new to the airline industry, which I think helped me to come at the problem from a completely new angle.

It's been really interesting honing the design to suit the very specific needs of the travel catering sector, and at every stage we have sought feedback from airlines, caterers and equipment suppliers to make sure we get it right. Winning the Mercury Award for innovation in February 2008 gave us a huge boost, and confirmed our belief that the market is ready for an innovative and forward looking product like the Quodpod.

With the new round of investment we are finally in a position to start manufacturing and filling orders. 2009 is going to be a very exciting year both for me personally, and for the company."

The company secured initial investment from angel investors in 2006 to fund the first two years of development and marketing. Then in February 2009 Quodpod Ltd successfully completed a second fundraising round, giving us the capital to manufacture the product in China and start supplying our pioneer customers!

The new investors are headed by Venrex Investment Management. Click here to read more.

Click here to download the Quodpod™ product information sheet.