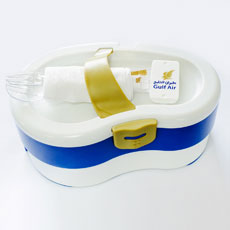 BESPOKE BRANDING OPPORTUNITIES
By customising the pods, corporate customers can quickly add their own brand personality and aesthetics. The lid plaque can be customised with either a colour printed or gloss embossed logo.
The handle and body of the pod can also carry the company livery colours (subject to minimum orders), as illustrated.
CASE STUDY: GULF AIR
We were delighted to work with Gulf Air to design their branded Quodpod for the live trials. Their corporate colours were matched by our factory and their logo has been colour printed in navy and gold on the plaque. The pods are now instantly recognisable as a Gulf Air product.
If you would like to see how the Quodpod can be branded in your airline livery please contact us and we would be delighted to produce illustrations.

Please see the gallery for more photos of our Gulf Air branded pods.