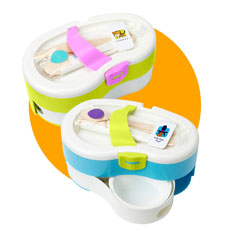 QUODPOD™
Quodpod™ is a new and innovative travel catering solution, designed to improve the quality and appeal of passenger dining while also minimising the throwaway packaging.

Quodpod™ is patent pending.

Click here to download the Quodpod™ product information sheet.
LATEST NEWS
WTCE Expo Hamburg

Quodpod will be showcasing its innovative products at the WTCE Expo 2012 in Hamburg (March 27th-29th). Come and visit us at stand 4C15 to hear about the new products we've added to our portfolio and the ongoing trial with Gulf Air.

Quodpod Meal Boxes are in the Air!

In November 2011, Gulf Air began live trials featuring the Quodpod Meal Boxes on their Kids' Inflight Service. Click here to read more
Quodpod featured in Airline Catering International Magazine

Click here to read the article, featuring our trial with Gulf Air .